Walmart & Sam's Club securing the Blue Ribbon for Nationwide Children's
Local efforts raising more than $231,088.93!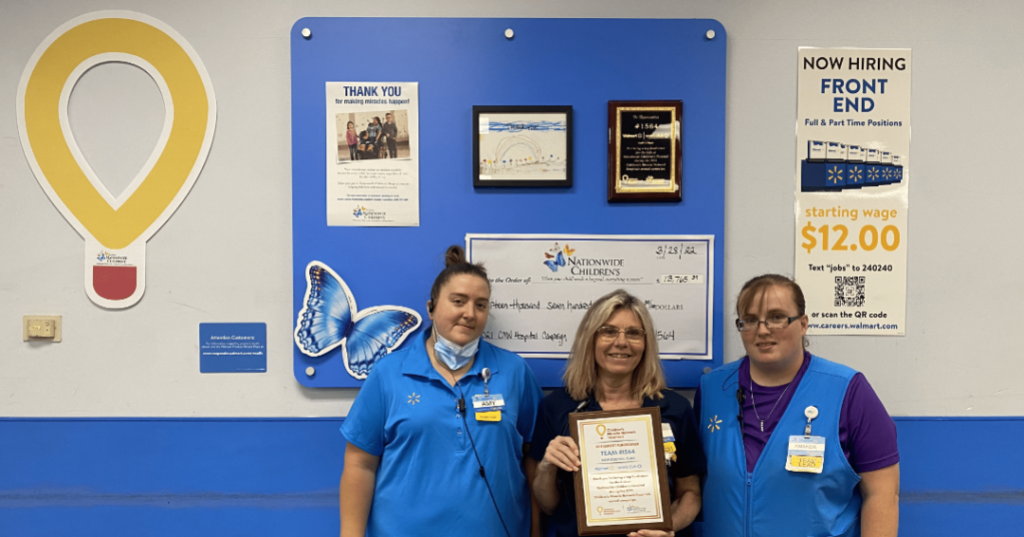 Featured: Team #1564 – New Boston, OH
Nationwide Children's Hospital has made an overwhelming impact in the lives of so many Walmart & Sam's Club associates, but this time the Walmart & Sam's Club employees are making an impact on Nationwide Children's.
For over 35 years, this public-facing campaign has been increasingly engaging the local community members to give to their local, Children's Miracle Network Hospitals.
The funds raised throughout this campaign have actively contributed to various programs within Nationwide Children's. This has provided us to ensure that we are bettering all areas of the hospital, with a direct focus on a variety of patient-focused services.
Throughout the campaign, associates across a multitude of different locations have shared their stories of how they have directly been impacted by Nationwide Children's. Every single story that was shared by the team members was a story that embodied the cause-connection of why we are continuing to advocate for children's health.
Everyone has a story, and everyone has a why.
And for us, Nationwide Children's is Central Ohio's, WHY.
Thank you, Walmart & Sam's Club, for investing in the future of our youth! And for ensuring that they, too, can live healthier lives!
Please, help us by congratulating our top fundraising locations below:
Overall Highest Fundraisers:
#1 – Walmart #3282 (Logan, OH)
#2 – Walmart #2209 (Zanesville, OH)
#3 – Walmart #2400 (Chillicothe, OH)
#4 – Walmart #3792 (Lancaster, OH)
#5 – Walmart #1564 (New Boston, OH)
Honorable Mentions:
Walmart
#1 Year-to-Year Increase – Walmart #1594 (Heath, OH)
#2 Year-to-Year Increase – Walmart #5203 (London, OH)
#3 Year-to-Year Increase – Walmart #5355 (Kenton, OH)
Sam's Club
#1 Year-to-Year Increase – Sam's Club #4947 (Zanesville, OH)
#2 Year-to-Year Increase – Sam's Club #6308 (Columbus, OH)
#3 Year-to-Year Increase – Sam's Club #6326 (Reynoldsburg, OH)