Changing Kids' Health to Change the Future with Walmart & Sam's Club – Meet Emerson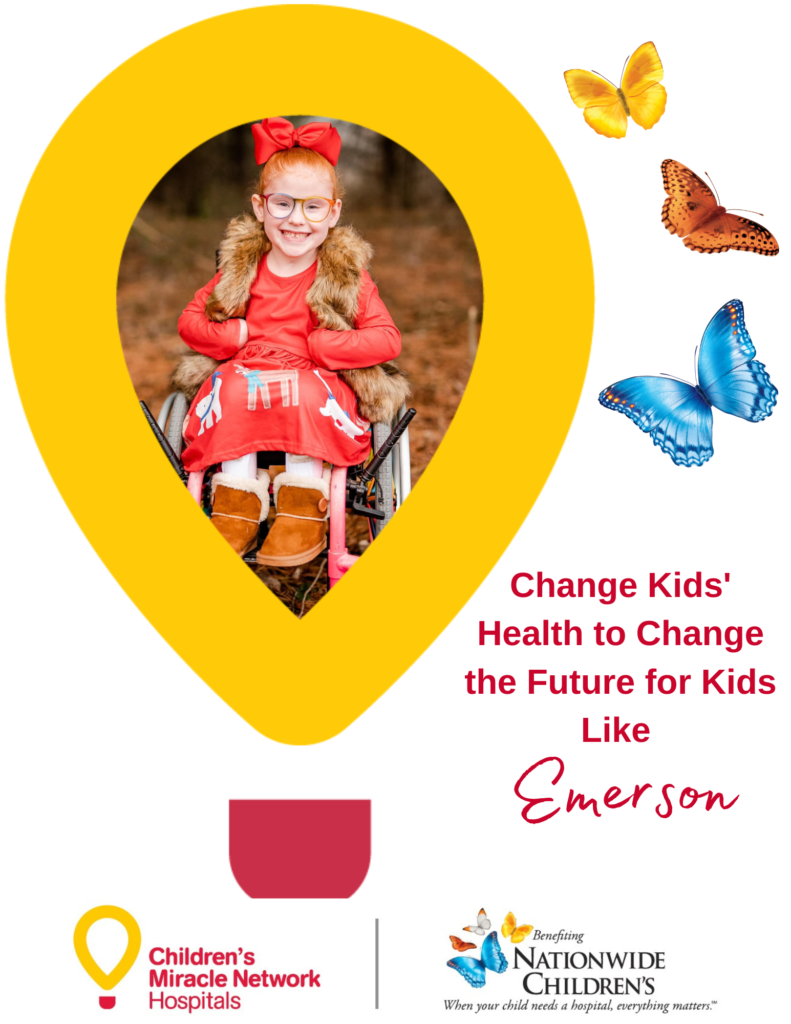 Meet Emerson,
Emerson is one of our kiddos that have completely encompassed our hearts at Nationwide Children's Hospital. With her personal connection to one of our beloved corporate partners, Walmart, it is an honor to celebrate her journey that has connected us all!
Emerson's dad, Rusty, is one of our lead general managers at the Walmart in Zanesville, OH. He has been an active supporter of the Children's Miracle Network Campaign benefitting Nationwide Children's Hospital for many years. Each year his team's compassion and dedication continue to grow and that is because they have a little miracle right in front of their eyes.
Emerson is a true miracle, check out her inspirational story below!
Emerson's Story:
During a routine prenatal visit, Emerson's parents were told that she had a birth defect. It was then that she was diagnosed with Spina Bifida. Emerson had her first surgery within 24 hours of birth. She went on to spend 3 weeks in the Nationwide Children's Hospital NICU. Just a few weeks later she developed breathing complications as a result of being diagnosed with hydrocephalus. Hydrocephalus occurs when there is extra cerebrospinal fluid in the cavities within the brain. Shortly thereafter, Emerson underwent another surgery for shunt placement and was released to go home. Within a few weeks of being home, she would require a shunt revision and tracheostomy.
Emerson's first year and a half of life would be spent in and out of the hospital for various surgeries and tests. This sweet and sometimes sassy girl overcame many obstacles and eventually was tracheotomy free. Emerson has been gaining strength through physical and occupational therapy which has enabled her to start school in a traditional classroom setting.
She has made many friends and loves showing them how fast she can go in her wheelchair with rainbow wheels. You can catch her always with a big smile and even bigger bow in her hair. She enjoys playing with her Barbie's, going outdoors, and bossing around her brothers.
This 6-year-old girl doesn't let Spina Bifida slow her down!
Thank you to Shanah & Rusty for allowing us to share Emerson's story and help advocate for other kiddos just like her.
Make sure you make your way to your local Walmart & Sam's Club from June 12th to July 14th to support the patients at Nationwide Children's Hospital!