Miracle Makers: Give Back, Not Up
Miracle Makers is a series of 30 stories from Walmart and Sam's Club associates to celebrate the companies' 30th anniversary of fundraising for CMN Hospitals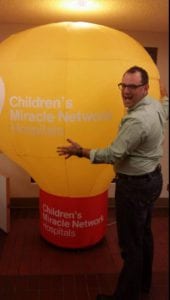 For John Tindall, giving back is personal.
When his young son experienced head trauma in a backyard accident, he was rushed to UC Davis Children's Hospital. He passed away, and their whole life flipped upside down.
"As bad as the experience was," John says, "it was still a positive experience on one side, too — my family experienced amazing care at the hospital."
For 30 years, Walmart associates like John have gathered donations for Children's Miracle Network Hospitals. In the wake of tragedy, John became even more involved. As West Sacramento Walmart Co-store Manager, he organized fundraising efforts, visited families in the hospital, served on leadership boards, and shared his story in an effort to ease the suffering of others in similar situations.
"It's very personal to me, and I'm passionate about being able to make a difference," he says. "Life happens, and I believe you have two choices: You can crawl in a corner and ask, 'Why me?' or you can be there for each other and decide to make a difference. I'm a big believer in being a part of the solution."
Help us make a difference in the lives of children in your community and families like the Tindalls by donating at your local Walmart or Sam's Club today.